This is an old revision of the document!
---
Navigateur plein écran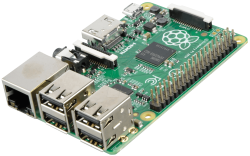 Résumé
La Raspberry pi est un outil idéal pour afficher un navigateur en plein écran sur une télé. Il peut s'accrocher discrètement à l'arrière et on pourra s'y connecter en ssh.
Projets
Afficher un navigateur en plein écran au démarrage sur une page donnée
On peut utiliser le couple OpenBox (Gestionnaire de fenêtres) et Midori (navigateur) :
Installer openbox et le navigateur midori :
sudo apt install openbox obconf obmenu midori unclutter
unclutter est un utilitaire qui permettra de désafficher le curseur si il est inactif
Créer un fichier de configuration et l'ouvrir :
mkdir -p ~/.config/openbox && cp /etc/xdg/openbox/* ~/.config/openbox
Ouvrir le fichier "autostart" créé et remplacer son contenu par (à ajuster au besoin) :
midori --inactivity-reset=60 -e Fullscreen --app=/path/or/url.html
Pour lancer openbox automatiquement au démarrage, éditer ou créer le fichier ~/.xsession et inclure :
exec=openbox-session
Pour tourner l'écran à 90° pour afficher en mode portrait, éditer le fichier /boot/config.txt et ajouter la ligne suivante en bas
display_rotate=1 #90 degrees
ou
display_rotate=3 #270 degrees
Pour se connecter automatiquement à un réseau sans fil, si le Raspbian est basé sur debian "Jessie" il ne faut pas éditer le fichier /etc/network/interfaces.
Il faut entrer le SSID et le mot de passe du wifi dans le fichier /etc/wpa_supplicant/wpa_supplicant.conf avec la nomenclature suivante :
ctrl_interface=DIR=/var/run/wpa_supplicant GROUP=netdev
update_config=1

network={
    ssid="homenetwork"
    psk="h0mepassw0rd"
}
Ressources
Divers
Pour éviter la mise en veille automatique dans Lightdm, éditer le fichier /etc/lightdm/lightdm.conf et inclur, en bas :
#Don't sleep the screen :
xserver-command=X -s 0 dpms
La Raspberry Pi n'a pas de mot de passe par défaut pour root. Pour en créer un :
sudo passwd root